Bike for a cause
Day 1
Nina:
The first day we had some steep hills leaving Novi Sad, but we had left very early in the morning so we tackled them without the heat of the day. We saw the most amazing sunrise and felt really good about starting our trip. After the hills we had the most amazing downhill entering a empty plain as far as we could see and not a car in sight. As it turns out the road was closed for renovation which was perfect for us: no cars!
One of the screws on Ninas back frame fell off after some very bad bumps but almost immediately Vladimer, an ex special forces man in a service van patrolling the road, stopped and tried to help us. It turned out he did not have the right size screw, but he gave us some strips to secure the frame until the next town 10 km down the road. 5 min after we arrive in the town Vladimer pulled up with a bag of screws he had bought for us, and spent the next 30 minutes fixing and checking the bike: an absolute angel!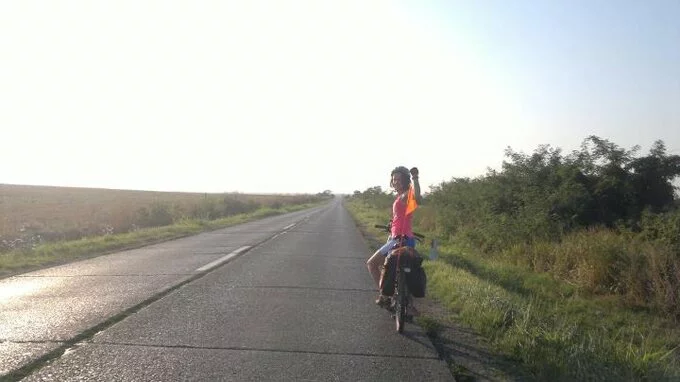 So we were back on the road and after a quick pit stop for pleskavicia, we entered Belgrade at 14:00. The road into Belgrade was a bit scary with big trucks and terrible directions that sent us around the town at least three times! Nobody in Belgrade seemed to have the slightest clue where anything was, and everyone we asked would involve a whole crowd of people who each had their own opinion.
The best was when Anna asked a police man who promptly started flagging down taxis, none of which were any help.
But in the end we made it to the address at 16:00, only to find out that our host would not be able to make it til 20:00. Dead tired, we crashed out in a park looking like total bums strewn out on the grass, but after a nap and some food we headed back to the apartment.
This is where things got really interesting: the apartment was TINY and there were 5 other couchsurfers there besides the 2 original inhabitants. Anna was greeted by a camera in her face as a team from Ireland were making a show on Couchsurfing for an Irish television channel and it was absolute mayhem! The place was a total mess and literally just a corner to sleep in, we excused ourselves early and went to bed only to get woken up a hour later by someone in the room blowing up an air mattress with a pump that sounded like a jet engine. 6 people slept in a room the size of a shoebox, and downstairs it was worse. We snuck out at 5 and didnt look back.
Day 2
Nina:
We snuck out of Belgrade as soon as we woke up. It was a few kilometers of scary roads and vicious dogs that wanted nothing more than to eat us at 5:30 am, but as soon as we got outside the city limits we were ok.
Anna:
"Those were some rather fearsome dogs which tried chasing us, making Matiz (our dog at home)look like an absolute angel. Nina was armed but we didn't have to use our weapons, which I found out later really disappointed her, who was hoping for a bit of violence. Oh well we still have another 1000 km to go, she will get her chance."
Nina:
We took a northern route following the Danube after someone's recommendation that it was a flat route….NOT… It was hill after hill after hill, but the most amazing view. Since we had started out early, we didn't have the heat of the day to bother us.
We entered Smederevo halfway through our day's route, and had our bikes looked at. The repair guy gave us a look of horror and forecasted doom and destruction. Then tried to first sell us a 2000 euro bike, and when we refused, a 60 euro wheel… hmmmm… no thank you. We had them oiled up and Anna took a nap in his daughter's car (seriously, that girl is amazing. She is like a cat; she just plops herself down and passes out!) Exiting the town, I had a fit of anger with my flag as it slipped into my wheel. I tore it off in rage and tried to dramatically break it over my knee, but of course it just bounced back and I ended up looking stupid, so I just threw it petulantly into a ditch. After the hills we had straight roads all the way to Velika Plana, where we had no place to stay. We went to the first and only hotel in the town and found out it would be 40 euros for us. Yikes! We asked to talk with the manager and after an initial no, Anna demanded a discount as she was helping "his" children in Serbia (all this over the phone). Amazingly he relented and we got a nice room for 18 euros.
We were so tired that we couldn't make it to the town to buy food, so we ended up eating at the McDonalds that was by the hotel…disgusting, I know, and they even charged us 25 cents for ketchup! The bastards….
But we slept so well and really needed the rest after the Belgrade nightmare.
Day 3
Amazingly smooth and long straight roads, a few hills, but nothing to cry about

We are receiving great hospitality everywhere we go, drinking lots of coffee and struggling to speak Serbian, as no one really knows English. As we were traveling on very rural roads, we are quite a novelty and people were quick to offer us food in order to have a chance to talk with us.
We got very quickly to Cuprija which was almost at our destination, when a car pulled up in front of us and a guy got out and asked us to stop, which we did. He turned out to also be a cyclist and he invited us back to his place for some food and to show us some pictures of his many bike trips. He had recently done a trip to Greece and was absolutely full of information about it. They also treated us to amazing home cooking. Our dear friend talked to us the entire time without stopping with his many stories. Upon leaving, his friends informed us that he was nicknamed 'Johnny Talker' instead of Johnny Walker whisky, and he certainly lived up to his name.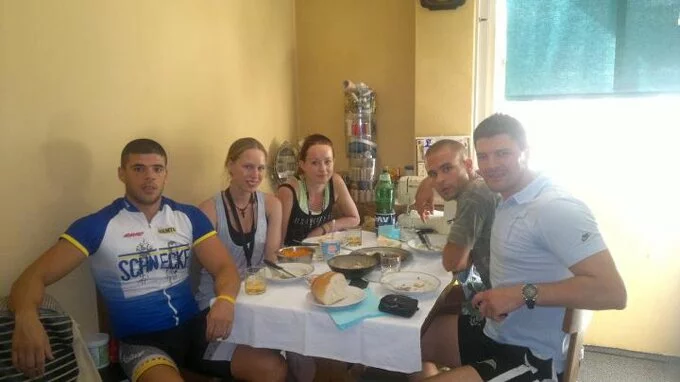 He was great fun and I can't wait to have him come to see us in Novi Sad sometime.
So around 4.30 we got into Paracin and met up with our couchsurfer host 'Dragan', who was an excellent host. We had a great time with him and his family and he very kindly gave the two of us his double bed, he also cooked us a BBQ and gave us plenty of advice about the road.
Anna:
Funniest moments: I asked two Irish girls why they werent going to see Serbia when they listed thier remaining destinations…of course we are in Serbia, so I looked very smart indeed. I told them that my old mental problems were kicking in, they nodded and seemed to understand perfectly.
So i just want to let you all know that South Serbia is AMAZING, and i mean beautiful and rustic and excellent and full to the brim with sweetness. We are being treated wherever we go, I really feel happy and great over here, haven't felt in danger one single time. The people are great, I absolutely love Serbia and I am falling even more in love with it over here!
Day 4, and a few scary moments
Ok so a little bit about yesterday… we arrived in Nis at around 3.30, it really wasn't that hard to get here, as there was one 9km hill right in the beginning of the day but not so steep. After that it was flat until Nis when there was a bit of a hill going up into the city and then down again. Thats how it goes with the up's you know there will be a down, so it's really okay.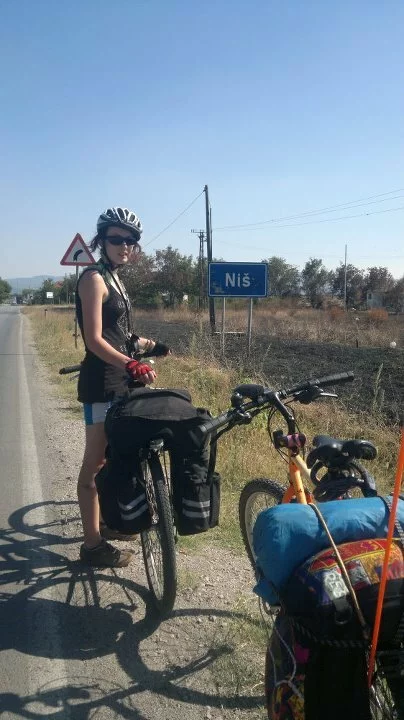 So upon getting here, the couchsurfer we had planned to stay with could not be reached. He would not pick up his phone, then as fate would have it, Nina popped her tire on a billiard standing in the road, heh, nothing glamorous. She waited while I went to the address of the guy to try and find him. His flat took me a long time to find as everyone said it was somewhere else and I rode around the city for quite a while. When I found it, I saw that it was on the 10th floor with no elevator, so I had to leave my bike downstairs and race up, it was a really scary place. I cant type it all now, but yeah it was terrible. To make a long story short, he wasn't there and I raced back to Nina who was waiting for me, to inform her that we didn't really have a place to sleep. So we prayed and went to the center of town.
Thankfully our friend Nenad (Johnny Talker) called his friend for us, A huge thanks to Srdjan, who was absolutely our favorite person on the trip so far. He took wonderful care of us, fed us, washed and hung our laundry and woke up early with us to make us coffee and help us with our bikes. He was a total hero, and we are so thankful that he rescued us.
There really is a lot more to tell you about yesterday, but now we are back on the road and on our way to Pirot, last stop in Serbia.
Day 5
Anna:
Today we were accompanied on our journey by two other cyclists with whom we'd had a drama the day before, they suggested coming with us for the first 40kms and suggested we didn't take the flatter path across the canyon. Instead they wanted to go through a more mountainous route, we were up for it.
This was the first day I experienced real pain, the mountain was around 1000 meters and was 6kms of straight climbing. Our guides told us we could get out and walk but we refused as we really wanted to make it the whole way on our bikes, they also suggested that they take some of our luggage, again we decided that we must accept the whole challenge and not chicken out. Oh it was very tough and both of us were feeling a lot of pain in the tops of our legs…. ouch….
Our guides always told us the top was just around the corner… heh.. it wasn't, it really was very long and hard, but YES we climbed a mountain and the view was fantastic. With every up there is a down and we were treated to a very long downhill.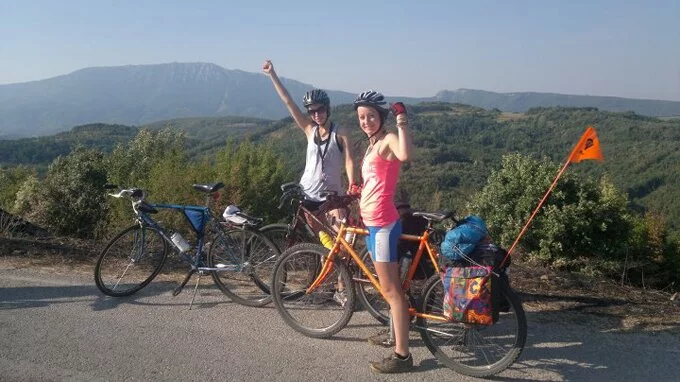 Nina got a tack stuck in her wheel, and as soon as we got to Pirot (around 1.30pm, the earliest time we managed our target kilometers) she had to go to the repair man. From this point the day got crazy, so basically the repair man invited us to his home. We went and enjoyed beer and snacks with him, we were so relaxed, when he noticed me falling asleep on the couch he let me sleep in a small room of his house (I have been sleeping in all kinds of crazy locations). Nina's tire was going crazy, after getting fixed, it popped, and then popped again… oh dear, we found out the inner tubes were too small and that was the problem.
We didn't have a place to stay that night, but our kind repair man called a friend who let us have his bed. He didn't speak a word of English and we relied on good old fashioned sign language and my limited Serbian… which was really fun. Our new friend took us for lots of food and drinks and snacks, and insisted we stay up later then our 9.30 bed time (cus we were soooo tired) and took us to meet his brother and friends. We had a great time in the town of Pirot, and afterwards we slept soundly at his home.
Oh so another nice thing, we got interviewed by the local Pirot newspaper, apparently our arrival was quite exciting and we were asked lots of questions, we got to promote our project in Novi Sad and talk about why we did it. Fantastic stuff!